Speaker Sticker
Company:
Summer Internship, Harman International (2014)
My Role
: Research, Design, Fabrication
Exhibition
: International Consumer Electronics Show 2015
Speaker Sticker is a conceptual audio device attachable to human skin. It allows a user to listen to the sound from a paired device through skull vibration while still hearing the ambient sound with ears. It works as an additional sound channel that can be added on the human body. The project started from a question about the next generation of headphones. Referring the the state-of-the-art technologies such as wearable computing and flexible sensors, the project explores an audio device that could be worn on human skin directly.
The working prototype made of bone conductor transducer, 3D-printed parts, and electronics from bluetooth ear buds.
A skin-friendly double-sided tape was applied to make it adhesive. It is strong enough to hold the device on the skin, and it could be replaced with a new one after use.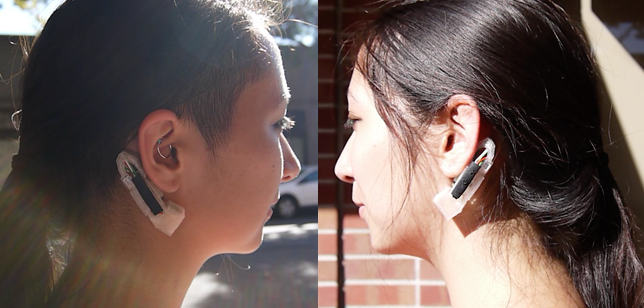 Two prototypes were made for a user to wear it on a perferred side.
The prototype was exhibited for Harman CTG Demos at CES 2015