You Light Me Up
Project:
Art Center Graduate Honors Fellowship (2015)
Design Execution:
Idea, Design, Fabrication
Media:
Creators Project (
Hand-Shaped Lamp Lights Up at Your Fingertips
,) BuzzFeed (
23 Art Designs That Enraptured Us In 2015)
Size: 4 x 4 x 8.3 (inch)
Materials: Nylon 12 PA, 40W LED bulb, touch light sensor, silver conductive epoxy, acrylic

The project started from a question that what if an ordinary device like lamp could evoke a highly intimate and personal feeling. Contrary to the focus on improving functionality and efficiency of an object, the project investigates how to enhance an emotional aspect of the physical interaction between a user and object by applying a poetic interaction to a lamp design. As an outcome of the exploration, a 3D-printed lamp was created based on 3D scan data of my hand. The lamp has a conductive touch switch at its fingertip, so a user needs to touch the finger to turn it on/off.
The project also explores a new mode of design and fabrication by adapting 3D scanning and 3D printing technologies as parts of the process. In order to use an accurate form of human body shape and skin texture, both analogue life casting technique and digital 3D laser scanning were used. The 3D scan data of the plaster casting was 3D-printed in nylon with Selective Laser Sintering (SLS) printing method.
The project is an outcome of the Art Center Graduate Honors Fellowship 2015 and was exhibited with the title of
Body, Materials, and Electronics
at Media Design Practice's 2015 Summer Research Event.
Fabrication Process
(1) Life casting of my right hand
(2) 3D scan the plaster cast
(3) Raw 3D scanned data

(4) Reparing the 3D model for 3D-printing

(5) Assembling the 3D-printed part and electronics

(6) Conductive touch button on the finger tip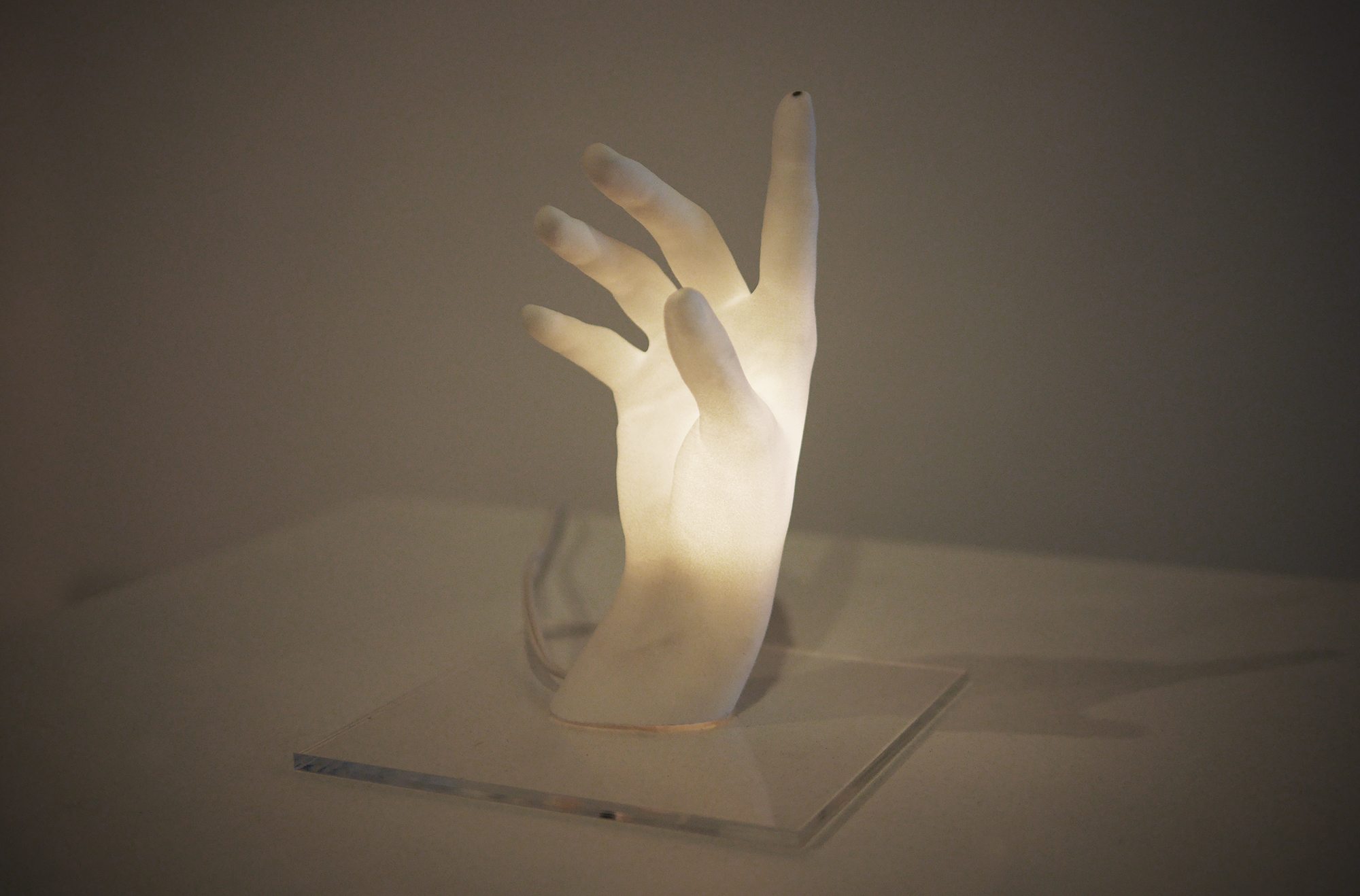 (7) Finalized lamp

Demonstration