VR Memory Repository
Company:
HP Labs (2018)
Team:
Jiwon Jun, Mary Baker, Eric Faggin, Kevin Smathers
My Role:
Concept Development, VR Design, 3D Modeling, Prototyping (Unity)
Panel & Presentation:
Art of Immersion
at IEEE Games, Entertainment, and Media 2018
Interview:
HP Labs Blog |
HP Labs explores a new approach to immersive content creation and consumption
We take photos and films with mobile phones almost every day to save memorable events and remember things better. So far, using a device with a flat screen has been the only way to replay the photos and videos. However, what if we take advantage of VR to build our own memory repository with those media, that we can visit for recollection?
VR Memory Repository
is a project investigating the idea by exhibiting photos and 360° videos in VR. Contrary to other VR experiences putting a user in other's shoes, this work focuses on providing a more reality-based personal VR experience created with the user's own content.
Concept Development & Prototyping
In order to explore the idea in more realistic context, I collected photos and recorded 360° videos of our team events. Those contents were intened to be used for creating an experience protoype that our team could test out.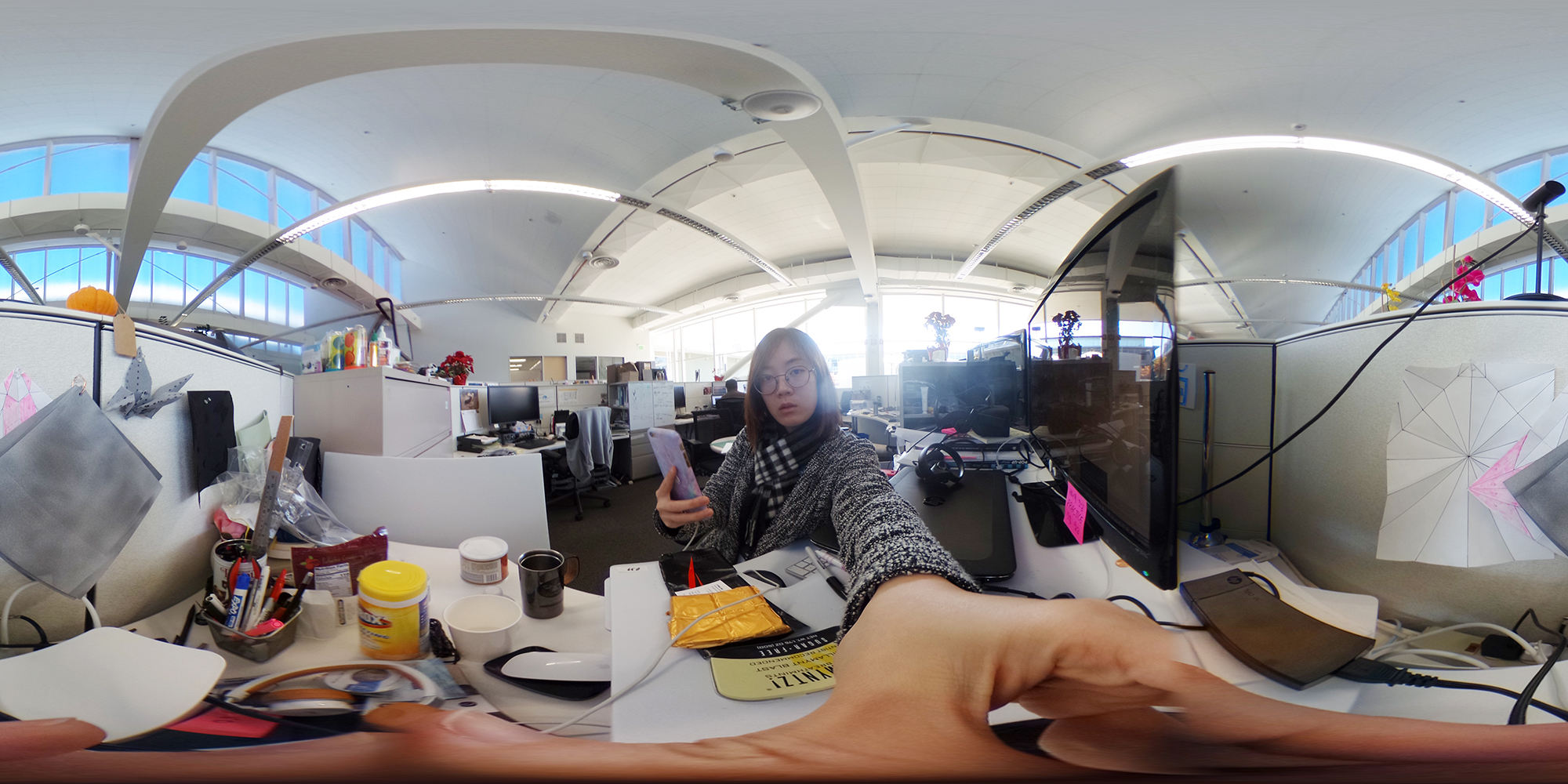 360° camera test

A VR space designed for displaying the content has two rooms, and each one is dedicated to present photos and 360° videos. After testing various ways to install the content spatially, it was decided to frame photos on the wall and display videos in spheres that a user could walk into.
VR Space Deesign
The idea of displaying 360° videos in a series of spheres were inspired by Disney's film "Inside Out." In the movie, the main character Riley's memories are visualized as orbs like objects and saved in a building representing a storage for long-term memory.
"Inside Out." Walt Disney Pictures, 2016.
Printing Photos
A printing feature was also added for a user to print out photos via a connected printer. Instead of keeping the experience virtual, we wanted to connect it with reality by letting a user export the content out of VR. The initial interface idea for selecting a photo for printing was using a button on the frame. However, as it doesn't feel intuitive and efficient to point a small button with a controller especially when a user is in distance from the wall it was replaced with an automatic photo selection triggered by HMD's head tracking.
A photo is automatically selected based on a user's head position.
When a user confirms with a controller, the photo is printed out.


The frame of the selected photo appears in different color.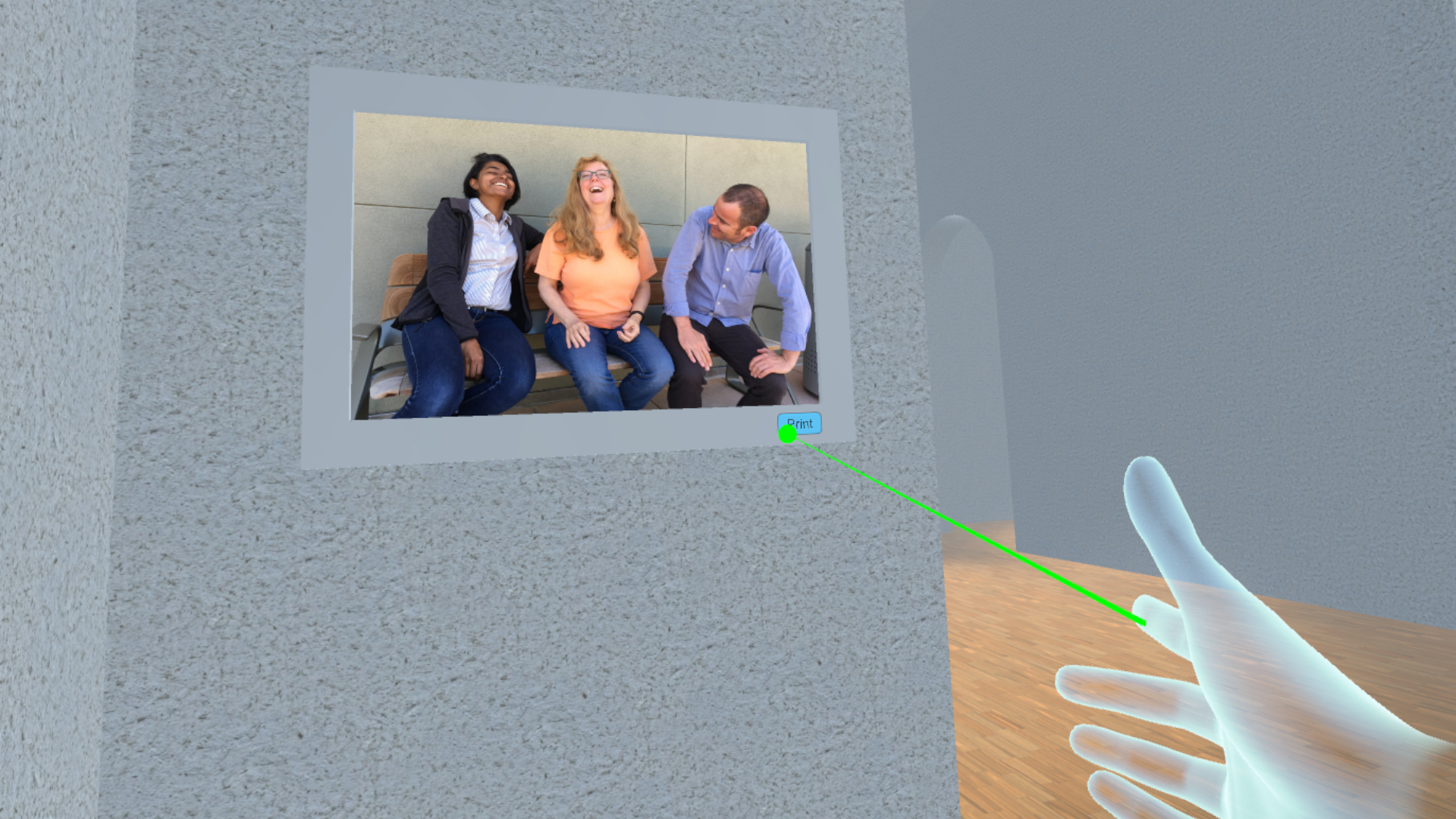 The intinal interface idea for selecting a photo
Walking Into 360° Videos
Round rugs are placed under the spheres to guide a user to step on it for watching the videos. When a user steps on the center of the rug the person could wach the videos, and this intends to lead the person to feel like being in the past moment. 3D spatial audio effect is applied to the spheres, so when a user gets closer to the sphere the person could hear the sound from the video louder.
Final Prototype
Panel & Presentation
I had an honor to present this project as part of the "The Art of Immersion" panel with other great artists at IEEE Games, Entertainment, and Media 2018 at NUI Galway, Ireland.